Day 4-8 Outlook


Day 4-8 Convective Outlook  
NWS Storm Prediction Center Norman OK
0343 AM CST Tue Jan 16 2018

Valid 191200Z - 241200Z

...DISCUSSION...
Relatively zonal mid-level flow will be positioned over much of the
US by the end of this week, prior to a trough digging across the
southwestern US this weekend. Subsequently, increasing flow across
the Rockies will induce lee troughing/cyclogenesis during this time
frame. In response, southerly low-level flow across the southern
Plains and lower Mississippi Valley will aid in modifying the
remnant continental air mass from the prior week. As the mid-level
trough ejects east across the Plains, showers and thunderstorms will
become more likely, primarily on D6/Sunday. Some potential for
severe weather may exist, augmented by potent mid/upper wind fields
overspreading the south-central US. However, considerable
uncertainty remains regarding the quality of boundary-layer moisture
return (and related surface-based buoyancy) in the wake of a
shortwave trough crossing the Gulf this weekend. Indeed, ensemble
ECMWF data suggest quite low probabilities for MUCAPE greater than
250 J/kg over Texas and Louisiana. Therefore, while some severe
threat may evolve by D6/Sunday, predictability remains too low for a
15% area at this time.

Thereafter, more notable low-level moisture return may materialize
ahead of a deepening western-US trough early next week (primarily
D8/Tuesday and beyond). More substantial buoyancy could yield a
greater severe potential, but the progressive/uncertain nature of
the pattern (combined with inherent uncertainty at this forecast
range) casts too much doubt for probabilities at this time.


Read more
Updated 16 January 2018 | 3:45 am
SPC 0830Z Day 3 Outlook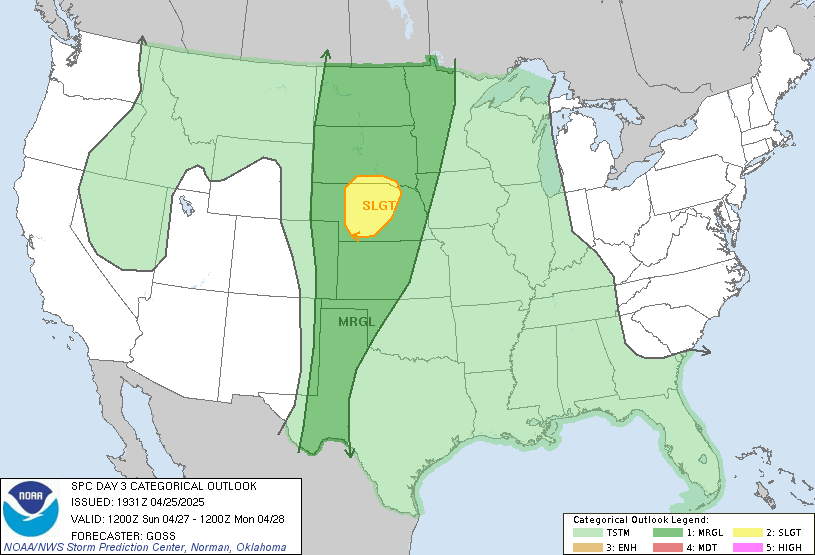 Day 3 Convective Outlook  
NWS Storm Prediction Center Norman OK
0143 AM CST Tue Jan 16 2018

Valid 181200Z - 191200Z

...NO SEVERE THUNDERSTORM AREAS FORECAST...

...SUMMARY...
Isolated thunderstorms are possible along the Pacific Northwest
coast Thursday.

...Discussion...
A strong southwesterly mid/upper jet will advance inland from the
Pacific Northwest towards the northern Rockies and western Great
Basin through the period. In response, a downstream ridge will
settle southeastward across the Desert Southwest, southern/central
High Plains, and mid Missouri Valley. Meanwhile, a series of
impulses, from northern Mexico to the Great Lakes, will advance
east/southeastward and support broadly cyclonic flow across much of
the eastern US by Thursday night.

As the aforementioned western-US jet works inland, cold temperatures
aloft (e.g., 500mb temps around -30 to -32 C) on the poleward flank
of the jet will foster convection in the wake of initial heavy
precipitation late Wednesday. Forecast soundings suggest that
sufficiently deep buoyancy should materialize for isolated
thunderstorms near the coast during the day.

Elsewhere, only initial, modest low-level moisture return will be
underway along the lower/middle Texas coast Thursday into Thursday
night. As such, a stable, continental air mass will persist east of
the Rockies through the period, precluding thunderstorm development.

..Picca.. 01/16/2018


Read more
Updated 16 January 2018 | 1:46 am