Day 4-8 Outlook


Day 4-8 Convective Outlook  
NWS Storm Prediction Center Norman OK
0321 AM CST Fri Nov 16 2018

Valid 191200Z - 241200Z

...DISCUSSION...
Medium-range guidance is in good agreement that stable conditions
will prevail across the CONUS next week as a continental polar air
mass dominants the sensible weather. Consequently, severe
thunderstorm development is not anticipated from Day 4/Monday
through Day 8/Friday.


Read more
Updated 16 November 2018 | 3:24 am
SPC 0830Z Day 3 Outlook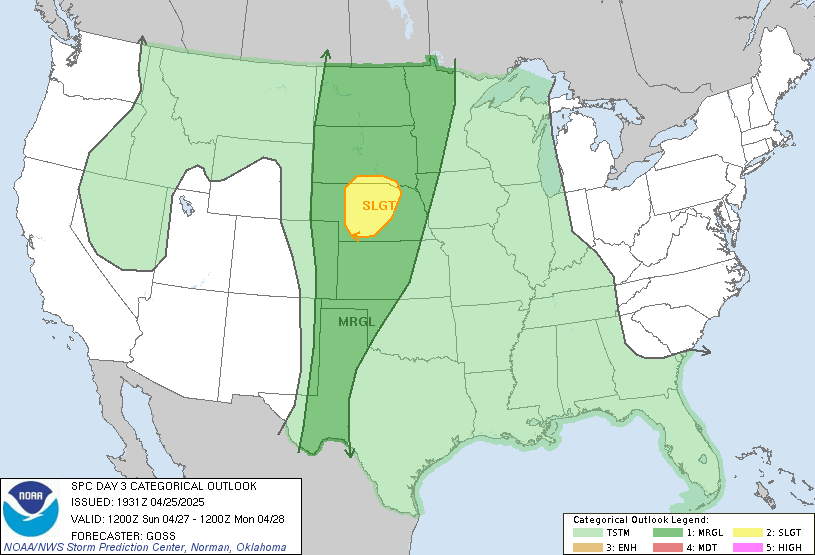 Day 3 Convective Outlook  
NWS Storm Prediction Center Norman OK
0118 AM CST Fri Nov 16 2018

Valid 181200Z - 191200Z

...NO SEVERE THUNDERSTORM AREAS FORECAST...

...SUMMARY...
Severe thunderstorms are not expected on Sunday.

...Synopsis...
A low-amplitude shortwave trough may move through the mid MS and OH
Valleys during the period but the upper pattern, characterized by
western CONUS ridging/eastern CONUS troughing, will likely remain
relatively unchanged throughout the period. Surface pattern will be
dominated by high pressure associated with a continental polar air
mass, although a low may move through the northern Plains Sunday
evening/early Monday morning. 

Stable conditions associated with this cold air mass will temper
thunderstorm chances throughout the majority of the CONUS. The only
exception is across south TX where enough low-level moisture will be
in place ahead of the southward-progressing cold front to support
isolated thunderstorm development. Limited instability should
preclude any severe storm threat.

..Mosier.. 11/16/2018


Read more
Updated 16 November 2018 | 1:20 am