Day 4-8 Outlook


Day 4-8 Convective Outlook  
NWS Storm Prediction Center Norman OK
0341 AM CDT Thu Sep 20 2018

Valid 231200Z - 281200Z

...DISCUSSION...
Latest runs of the medium-range models appear to be in good general
agreement through Day 6 (Tuesday 9-25), after which differences
begin to gradually emerge, complicating attempts to ascertain
convective potential through the middle of next week.

Prior to this, models consistently depict that the trough moving
across the Pacific Northwest at the start of Day 4 will gradually
expand/deepen as it moves across the western and into the central
U.S. through Day 6.  In response to the approaching trough, a cold
front is progged to move into the northern and central Plains Day 4,
and the across the Plains and into the Upper Great Lakes Day 5.  Day
6, as the upper system continues to expand/advance eastward, the
front is forecast to cross the Upper Great Lakes/Midwest/southern
Plains.

As the front crosses the central and eastern U.S., an increase in
convective potential will accompany it.  However, in general, it
appears that the stronger flow aloft will be confined to northern
portions of the frontal zone, where warm-sector instability will
likely remain more limited.  While portions of the central Plains
and upper Midwest on Monday the 24th (Day 5), and the upper Great
Lakes and Midwest on Tuesday the 25th (Day 6), may require attention
in later outlooks, once any potential risk becomes more certain, no
areas will be issued at this time.


Read more
Updated 20 September 2018 | 3:44 am
SPC 0730Z Day 3 Outlook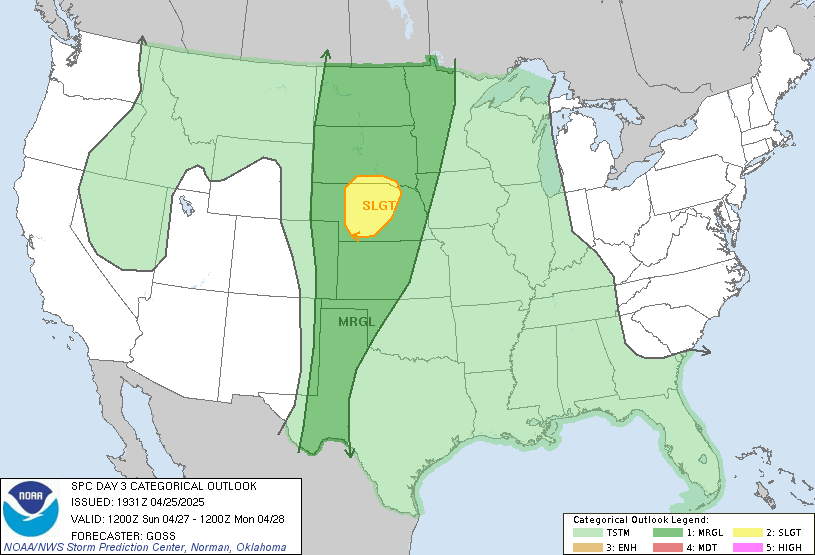 Day 3 Convective Outlook  
NWS Storm Prediction Center Norman OK
0220 AM CDT Thu Sep 20 2018

Valid 221200Z - 231200Z

...NO SEVERE THUNDERSTORM AREAS FORECAST...

...SUMMARY...
Severe weather is not expected across the U.S. on Saturday.

...Synopsis...
As an energetic short-wave trough within the fast belt of polar
westerlies over the northern U.S. and Canada shifts across the
Maritimes and into the northwest Atlantic, a second trough within
this belt of flow will move inland across the Pacific Northwest. 
South of the main belt of flow, a weak trough is progged to move
slowly across the southern Plains region, while several weak
disturbances move across the Ohio and Tennessee Valleys through the
period.

At the surface, the trailing portion of a cold front vacating the
northeastern U.S. early in the period is forecast to remain
quasi-stationary, stretching from the Mid-Atlantic region, across
southern Appalachians, to the Arklatex area.  The main southward
advance of the colder air north of this front should be limited to
portions of Texas and Oklahoma, west of a weak low progged to drift
very slowly eastward across the northeast/east Texas vicinity
through the period.

Scattered showers and thunderstorms are forecast along the
quasi-stationary front, but with the boundary south of the belt of
stronger flow aloft, little risk for severe weather is evident at
this time.  Widespread convection is forecast across the
south-central U.S. -- from eastern portions of the southern Plains
into the lower Mississippi Valley -- ahead of the weak upper system.
Here also, weak shear should preclude appreciable severe risk.

..Goss.. 09/20/2018


Read more
Updated 20 September 2018 | 2:22 am