Day 4-8 Outlook


Day 4-8 Convective Outlook  
NWS Storm Prediction Center Norman OK
0244 AM CST Mon Dec 18 2017

Valid 211200Z - 261200Z

...DISCUSSION...
...Thursday/Day 4 and Friday/Day 5...
The medium-range models including the ECMWF, GFS, UKMET and Canadian
move an upper-level trough across the Desert Southwest on Thursday
and into the southern Plains on Friday. Low-level moisture is
forecast to return northward into the western Gulf Coast states on
Thursday moving eastward into the central Gulf Coast states on
Friday. It appears that thunderstorm development will be possible
from east Texas northeastward into the Mid Mississippi Valley on
Friday. Surface dewpoints in the 60s F coupled with strong
deep-layer shear may be enough for an isolated severe threat.
However, instability is forecast to remain weak which should keep
any severe threat marginal.

...Saturday/Day 6 to Monday/Day 8...
On Saturday, the ECMWF, UKMET and Canadian remain in reasonable
agreement with an upper-level trough in the western states and
southwest mid-level flow over the southern and eastern U.S. The
ECMWF keeps a moist airmass in place across the Gulf Coast states
while the GFS drives a cold dry airmass to western and central parts
of the Gulf Coast. If the ECMWF is closer to being correct, a
marginal severe threat would be possible in the lower Mississippi
Valley near a strengthening low-level jet on Sunday. On Monday,
model forecast differ markedly on the details but several solutions
have a dry airmass in place across much of the CONUS. This would
limit thunderstorm potential.


Read more
Updated 18 December 2017 | 2:47 am
SPC 0830Z Day 3 Outlook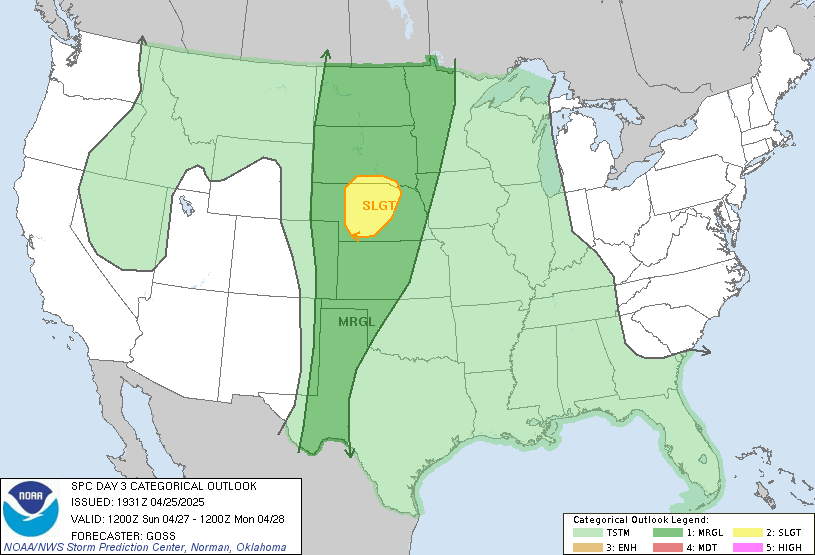 Day 3 Convective Outlook  
NWS Storm Prediction Center Norman OK
0141 AM CST Mon Dec 18 2017

Valid 201200Z - 211200Z

...THERE IS A MARGINAL RISK OF SEVERE THUNDERSTORMS ACROSS PARTS OF
MISSISSIPPI...ALABAMA AND GEORGIA...

...SUMMARY...
Scattered thunderstorms are forecast to move eastward from central
Mississippi into north-central Georgia on Wednesday. The convection
may be accompanied by a marginal tornado and strong wind-gust
threat.

...Mississippi/Alabama/Georgia...
An upper-level trough will move eastward from the Arklatex across
Mississippi and Alabama on Wednesday. At the surface, a cold front
is forecast to advance eastward from the lower Mississippi Valley
into the central Gulf Coast States. Ahead of the front, a moist
airmass will be in place with surface dewpoints in the 60s F.
Scattered convection is forecast to be ongoing at 12Z on Wednesday
in central Mississippi along the western edge of a 40 to 50 kt
low-level jet. This convection is forecast to move into
north-central Alabama by midday and into north-central Georgia in
the afternoon. Forecast soundings along this corridor from late
morning into the afternoon show MLCAPE values in the 250 to 500 J/kg
range with 0-6 km shear of 60 to 70 kt. This should be enough for a
marginal severe threat. Forecast soundings also show 0-1 km shear at
or above 30 kt which should be sufficient for a marginal tornado
threat. A potential may also exist for strong wind gusts.

..Broyles.. 12/18/2017


Read more
Updated 18 December 2017 | 1:44 am
SPC 0700Z Day 2 Outlook


Day 2 Convective Outlook  
NWS Storm Prediction Center Norman OK
1156 PM CST Sun Dec 17 2017

Valid 191200Z - 201200Z

...THERE IS A MARGINAL RISK OF SEVERE THUNDERSTORMS ACROSS PARTS OF
THE MIDDLE TO UPPER TEXAS COAST...EAST TEXAS...NORTH-CENTRAL
LOUISIANA INTO WEST-CENTRAL MISSISSIPPI...

...SUMMARY...
Scattered thunderstorms are expected to develop from the middle and
upper Texas Coast Plains on Tuesday afternoon moving across east
Texas Tuesday evening into north-central Louisiana and west-central
Mississippi during the overnight period. A few strong wind gusts and
a marginal tornado threat will be possible.

...Middle to Upper Texas Coastal Plains/East Texas/North-central
Louisiana/West-central Mississippi...
An upper-level trough will move from northern Mexico into southern
and central Texas on Tuesday. Ahead of the system, a moist airmass
will advect northward onto the Texas Coastal Plains. Surface heating
will take place ahead of the upper-level trough as a 30 to 40 kt
low-level jet develops during the day. This should be favorable for
scattered thunderstorms between San Antonio and Houston Tuesday
afternoon. Forecast soundings in this area at 21Z/Tuesday show
MLCAPE values around 500 J/kg with 0-6 km shear in the 50 to 60 kt
range. 0-1 km shear is forecast to be around 30 kt. This environment
should support storm rotation within cells that remain discrete. A
marginal tornado threat or potential for strong wind gusts should
exist with the stronger rotating cells.

Model forecasts move this area of scattered thunderstorms
northeastward across east Texas Tuesday evening and into
north-central Louisiana during the overnight period. By late in the
period, the storms should move into west-central Mississippi. The
environment along this corridor will continue to have weak
instability and strong deep-layer shear favorable for a marginal
severe threat. Although 0-1 km shear will increase some as a
low-level jet strengthens across the region, instability will remain
weak. For this reason, the severe threat should remain marginal with
a potential for isolated strong wind gusts and perhaps a low-end
chance for a tornado.

..Broyles.. 12/18/2017


Read more
Updated 17 December 2017 | 11:58 pm