Day 4-8 Outlook


Day 4-8 Convective Outlook  
NWS Storm Prediction Center Norman OK
0314 AM CDT Fri Apr 28 2017

Valid 011200Z - 061200Z

...DISCUSSION...
While a few episodes of severe weather are possible during the
extended period, predictability and/or the risk for higher-end
severe weather events appears too low for probabilities at this
time.

...D4/Monday -- Lower Great Lakes to the Central Appalachians...
With a closed low lifting northeast across the Great Lakes region, a
corridor of strong south/southwesterly mid-level flow is expected to
overspread the region. Showers and storms will likely form ahead of
a trough/cold front advancing east. If sufficient
heating/destabilization occurs ahead of this boundary, the potential
for at least a few severe storms will likely exist. However,
uncertainty due to concerns regarding cloud cover earlier in the day
(as well as a lack of steeper mid-level lapse rates) casts doubt
upon forecast buoyancy, precluding probabilities.

...D6/Wednesday-D8/Friday -- Gulf Coast to Carolinas...
Northward moisture return in the wake of the previous system may
yield an uptick in severe potential from the Texas Gulf Coast
eastward during the second half of the week as a trough crosses the
region. However, ongoing inconsistency among models/runs does not
yield enough confidence for probabilities at this time.


Read more
Updated 28 April 2017 | 3:17 am
SPC 0730Z Day 3 Outlook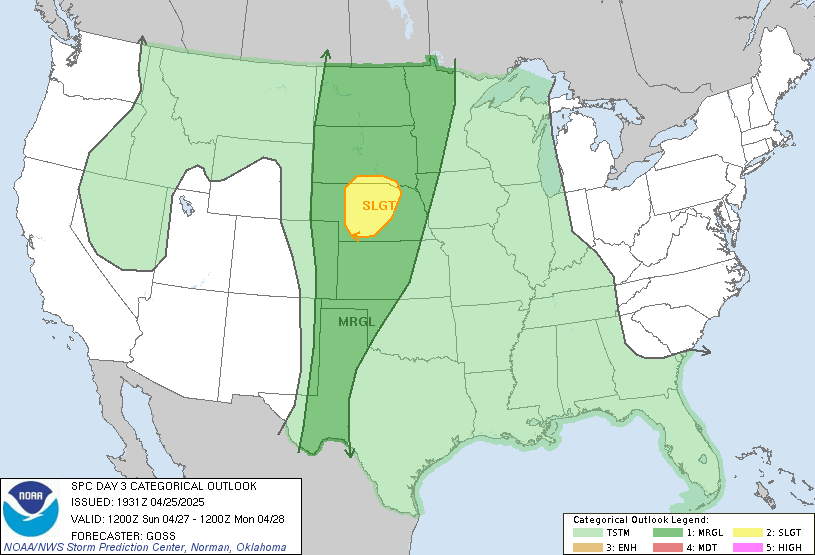 Day 3 Convective Outlook  
NWS Storm Prediction Center Norman OK
0228 AM CDT Fri Apr 28 2017

Valid 301200Z - 011200Z

...THERE IS A SLIGHT RISK OF SEVERE THUNDERSTORMS ACROSS PARTS OF
THE LOWER/MID MISSISSIPPI VALLEY...

...THERE IS A MARGINAL RISK OF SEVERE THUNDERSTORMS FROM THE CENTRAL
GULF COAST TO THE MIDWEST...

...SUMMARY...
Severe thunderstorms will be possible across portions of the lower
and middle Mississippi Valley Sunday into Sunday night. Damaging
winds will likely be the primary threat, but large hail and a couple
tornadoes may also be possible.

...Synopsis...
A rather expansive mid-level trough and associated closed low will
slowly advance eastward across much of the central US. As it does
so, the low should continue to deepen as it lifts towards the
Missouri Valley. Meanwhile, ridging will remain established across
parts of the Mid-Atlantic, extending northwestward to the Great
Lakes.

...Portions of the Mississippi Valley...
Multiple areas of convection are likely to be ongoing across the
region Sunday morning, as a surface low evolves northeast towards
Iowa/Illinois and a trailing cold front advances east across the
Mississippi Valley. Across the Ark-La-Miss region, a few of these
early storms may be severe, with damaging winds likely the main
threat. Downstream destabilization through the day and strong
effective shear will likely favor intensification of a band of
storms pushing eastward during the afternoon and evening. Despite
strong effective shear, front-parallel vectors suggest mainly linear
modes, with an attendant threat for damaging winds and perhaps a few
instances of severe hail. Despite this linear mode, strong low-level
shear may support a couple line-embedded tornadoes as well.

Farther north towards the mid Mississippi Valley, shear vectors may
be more orthogonal to the front, potentially favoring slightly more
discrete storm modes (which would support a greater tornado/large
hail potential). However, convection Saturday night into Sunday
morning may cast a broad area of rainfall/cloud cover across this
region, reducing the potential for considerable destabilization and
precluding a northward expansion of the Slight Risk at this time.

..Picca.. 04/28/2017


Read more
Updated 28 April 2017 | 2:31 am